This week has been an interesting one to say the least. I'm not even sure I know where to start. I'll just give you an overview.
Thursday - Leave work early, brother comes to visit, doggie wanders into our yard and we call the humane society, then we go to a comedy show.
Friday - we go to the humane society and fill out pre-adoption papers for said doggie, drive to Lincoln for practice, go to Anthony's going away party, stay the night
Saturday - drive to a small town in Kansas and play a show
Sunday -  get home from show at 4:30 am and decide not to go to bed and just go right to church to play at 6:30 am.
Monday - go to work at 6:00 am, then leave work at 7:00 am feeling crappy. On a whim I go to the doctor and have him look at a bump that was growing on my arm. I walked away from the doctors that day with whatever it was cut off. They're going to run tests to find out for sure, but now I've got 3 stitches in my arm and am going to have to figure out how to get them out when I'm on the road in a week. Later that evening I become an UNCLE for the first time, as my brother in law and sister in law welcomed Alaina Gisele into the world. I am going to be the COOLEST uncle.
Tuesday - THEE BIG DAY. Tuesday was my last day of work. I left work for good at 10:00 am to pursue my life as a musician.... and it was terrifying.
Wednesday - We find out that the doggies owners came and picked it up on Saturday. It was a sad/happy occasion. I also found out that my grandma is going to have to have surgery to remove a lump from her adrenal gland. This was frankly better news than I was expecting, but still a little frightening since grandma is getting older and I'll be on the road thousands of miles from home for the next 2-3 months. Just for good measure and to mark such a momentous week, I also went out and got my nose pierced. I really thought I might die cause my nose is so sensitive, but I barely felt it. I'm not trying to say that to be tough. He slid a tester ring on my nose to test the placement and that stung like crazy. I thought there was no way I was going to make it through, but when the time came, I really barely felt it.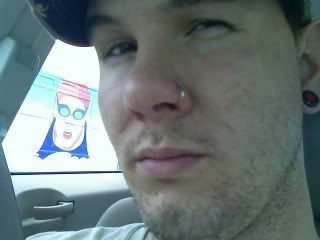 Notice the ghost swimmer over my shoulder. We were actually driving down the street when I snapped this picture with my phone. I have no idea where the swimmer came from or how it came to be perfectly placed next to my head. If for some reason I'm found drowned in my bathtub tomorrow or later this week you'll know that the movie "Shutter" really was true.
I'm not sure what tomorrow will bring and I'm definitely not sure what next week will bring, but I must say I feel more like me today than I've felt in a long time. I don't have to be two different people anymore. I don't have to keep 2 separate wardrobes in my closet or an ID badge in my wallet and that's an amazing feeling; one I've been waiting for for a long time. Let's just home we can sustain it.
Until next time...
PS I've been thinking about starting to post a short story of the month on this thing. I've been writing a lot more lately and I think it would be a good exercise for me. Hopefully you can be looking for that here in the next couple weeks.